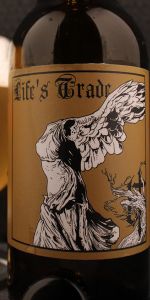 This light-bodied farmhouse ale was fermented in puncheons. There is a beautiful lemon tartness that opens to notes of pineapple. By the the third and fourth sip, flavors of white, fleshy peach take over. This is a delightful, easy drinking brew that I gulped down far too quickly for the price.
Background
Neither "life" nor "trade" are direct Greek or Latin words. What's going on BCS? Have the authors gone crazy?!? No, Minime, and Οὔ. This delicious beer was chosen because of the irresistibly Classical cover art – the Winged Nike of Samothrace (the headless statue).
Considered one of the most beautiful works of ancient art, the statue depicts the goddess of victory herself, Nike, as she alights from a prow (?) and crowns someone after a sea battle (there is dispute on the precise subject). The Nike was part of a broader aquatic victory installation located in the elaborate cult complex to the "Great Gods" on the northern Greek island of Samothrace. This Hellenistic masterpiece (ca. 2nd c. BCE) so moved nineteenth century travelers, that it was taken to the Louvre in 1884 where it still remains.
Facts
375 ml
4.7% ABV
Brewed by: Trve Brewing Company, Denver, Co.